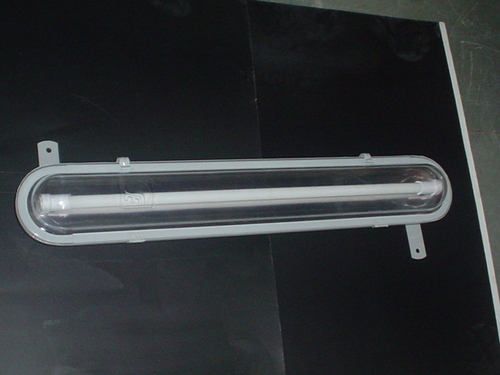 Railway Wash Yard Light
Product Code : RWYL 05
Product Description
Owing to the experience and expertise of our skilled team, we have been able to manufacture Railway Wash Yard Light. These products are tested as per the ISO standards that ascertains their flawlessness. Used at railways wash yards, these products have just one single beam light inside the protective covering. Owing to its longer self life and low power consumption, these products are have a high demand in the market. Customized as per the specifications given by our esteemed clients, Railway Wash Yard Light is priced at industry leading rates.

Other Information:

Designed and developed as per European Standards EN-60598-1,EN-60598-2-3, EN-55015 : 2006 & IEC 60081 : 2002
Luminaries Design as per IS 10322 1 , IS 10322 4 , IS 2418-1, IS - 2418-2
Poly Carbonate Glass - Clear Light Output.
Powder Coated C.R.C.A Sheet Metal Body - Eliminates Problem of Rusting.
German Make Imported High Grade Aluminium Reflector as per DIN EN 10204, DIN 5036, DIN 67530.
Electronic Control Gear for Lamp Improves Light output and reduces power consumption designed as per EN-61347-1,-2-3.
Short Pay Back Period Saving more than 50% Power.

Specifications:

1) Type of Ballast: Electronic Ballast

2) Operating Voltage: 110VDC +/- 10%

3) Operating Current: 260mA +/- 10%

4) Power Consumption: 24Watt +/- 10%

5) Type of Starting: Pre-heat Voltage Controlled.

6) FTL type: T-5 24 Watt 2Ft.

7) Lumen Output: 2160 lm.

8) Transparent Cover: Poly Carbonate Glass of 3.5 mm Thickness

9) Body: Powder Coated C.R.C.A Sheet Metal Body.

10) German Make - Aluminium Reflector Properties:

Total Reflectance: Min. 86%

Diffuse Reflectance: Max. 10%

Specular Reflectance (Along 60 deg.): Min. 84%

Specular Reflectance (Across 60 deg.): Min. 80%

Iridescence: Low iridescence

11) High Voltage / Surge Protection.

12) Dimension ( L x W x H in mm.): 625 x 100 x 85

13) Recommended Mounting Height: 8 Ft. 10 Ft.

Ambient temperature range: Storage Temp. : 15 C Max Temp. : 75 C